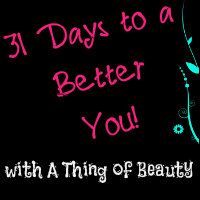 Hello! So K from A Thing Of Beauty (link above) created a "31 Days To A Better You" challenge. You can create your own list of goals to healthy, happier you! This is my goal list.
Goals
Walk 30 minutes a day at least 5 times a week (if not everyday!)
Decrease how much soda I drink and increase the amount of water I drink
Set up a school night routine (preparing for the next day) and stick with it!
Sit down and study for at least 20 mins 3 times a week
Do you have any goals you'd like to accomplish? If so, check out K's post on how to participate!